Misting Systems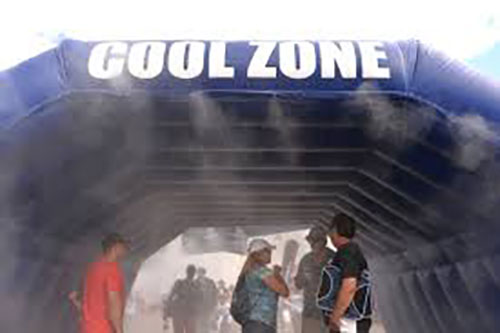 Cool Zone™ has harnessed that natural process of changing water into vapor, absorbing heat, to create the most effective cooling, high-pressure misting system in the market today. The flash evaporative technology can reduce the temperature dramatically, lowering up to 25 degrees, even in humidity.
Cool Zone offers the greatest water pressure with 1000 PSI.  High-pressure stainless steel and nylon misting systems are perfect for your commercial, restaurant, patio misting, industrial and residential applications.  We also offer mid-pressure pumps with 300 PSI where larger water droplets are desired.
Features & Benefits:
Our nozzles produce the finest mist so they are more effective than simple atomizing technology.  Operational costs are substantially lower than bag houses.
Units draw from a fresh water supply; eliminating health and safety concerns common to "Swamp Coolers."
Static line systems (stainless steel and nylon) offer fan-free operation. Great for outdoor cooling, as well as for certain dust and odor concerns.  Static line misting systems can be engineered to do the job without failure.
High Pressure Systems (1000 PSI)

Stainless steel
Nylon static line
Stainless steel quiet pump
Pulley-driven
Mid-Pressure Systems (300 PSI)

Stainless steel
Nylon static line