Misting Inflatables & Tents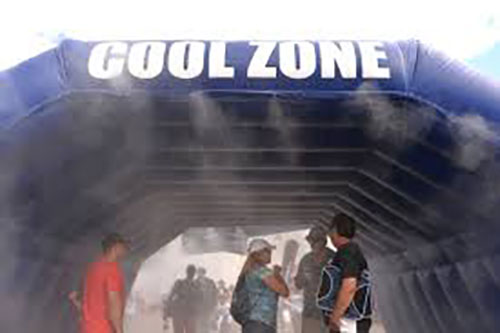 Cool Zone™ designs, sells, assembles and designs misting tents, trailers and inflatables in a variety of sizes, colors and configurations. The misting tents and inflatables can be purchased with high-Pressure (1000 psi) or mid-pressure technology (300 psi).  Cool Zone Misting Trailers can be purchased in two, four, five or six fan configurations.
Misting Tents
Cool Zone plumbs 10' x 10' Tents with both high-pressure and mid-pressure misting systems.  Beat the summer heat with a recreational misting tent. Customizeable misting tents from Cool Zone are the perfect complement to any outdoor function that needs relief from the heat.
If you're planning for a big event in warm climates, our portable misting trailers make an excellent addition to keep event goers cool and safe from the heat. Cool Zone offers a variety of trailer misting fans for you to choose from. Each of these portable cooling systems is easy to transport and even easier to use.
Cool Zone's Misting Fan Trailer System uses three high powered fog fans, water tank and generator on a trailer, so you can pull it anywhere to cool customers and workers in a field, through a park, or at a festival without the need for power supply or water supply. Just fill up the 300 gallon tank and you're ready.
Specialty Designed Inflatables Misters

Cool Zone's high-pressure and mid-pressure Inflatable Misting Systems can be built in any configuration or design you can imagine. Cool Zone has built:
30' inflatable black bear with a mister in its belly
Walk under misting dome inflatables
Single arch inflatable misters for ends of marathons
Coca Cola Cool Zones in those amusement parks